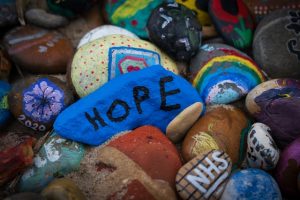 Is COVID-19 the new ACE?  A once-in-a-lifetime Adverse Childhood Experience that will have affected all children, not just in the UK, but all over the world?
ACES don't discriminate, and we know that for many children living through them, they are affected long into their adulthoods. Rarely, if ever, though have we seen an 'Adverse Childhood Experience' that has affected so many children, in such huge numbers collectively, universally at the same time; in live time. The original CDC-Kaiser study done in 1998 described 10 different Adverse Childhood Experiences. Has the COVID-19 universal pandemic brought a new ACE to the fore?
It will be many years before the full effects of the pandemic on our children will truly be known. Early research does not fill us with hope however. Be it the consequence of missed schooling, the affect the pandemic has had on their relationships , their personal, social and emotional development and their mental health and emotional wellbeing. And this is before we stop to look at how many children already had multiple ACES going on, before the arrival of the pandemic.  Some children will have lost a loved one due to COVID-19. Their pain unimaginable. But all children have lost something. They have all lost a little bit of what it is like to be a child growing up in a world free of masks, fear, confusion and anti-bacterial gel. The right to a childhood where free play and learning are the cornerstones of their world.
What is clear is that we must now acknowledge the collective trauma so many children have experienced as a result of the pandemic. Supporting children emotionally as we navigate this next phase of the pandemic must be a priority. At a time where emphasis is being given to missed school days, we must also remember the importance of giving children back their childhood. As part of this we must also acknowledge the importance of  early intervention for children's mental health. With 1 in 6 children with a probable mental health disorder, investment must be made in support services if we are going to help them recover, thrive, be happy and be well. Again, every child's right.
For many children during the pandemic, particularly those 'out of sight', they have had to live through courageously, quietly and painfully on a day by day basis ACES that have been exacerbated even further by the pandemic. I for one will breathe a huge sigh of relief on 8th March 2021 when I know that children return to school, and I know that there will be caring professionals up and down the country ready to hear the children, watch for the distress. Those who know that all behaviour is communication; and who will try their very very best to help the children living through ACES to have their little voices heard and responded to.
In anticipation of the 8th March 2021 when our schools reopen, and the tsunami of referrals to social care we are likely to see, I would like to say a huge thank you to every single teacher, every single DSL, every single lunchtime supervisor who will be there for children all over the UK. I would also like to thank all my colleagues in social care and early help and CAMHS  who will be working as hard as ever to support the children as they come through 'the front door' not perhaps for the first time, but hopefully for the last time as the support they receive this time empowers their family to be, and live, in a different space where 'ACE' is not a word used to describe traumatic and difficult childhood experiences but it is instead just a word used to describe a great and fantastic experience. After all, that is what every child deserves – a great and fantastic experience of growing up.
Image credit: Nick Fewings on Unsplash