Safeguarding is everyone's responsibility
We are a unique, survivor-led and professionally-informed safeguarding and wellbeing consultancy based in the heart of Yorkshire at the Nostell Priory Estate.  We deliver safeguarding consultancy, face-to-face courses, Mental Health First Aid (MHFA) England Courses, DfE-accredited Senior Mental Health Lead training, and Mind, Body and Spirit Retreats.
Hello, my name is Sarah and I am an Independent Safeguarding & Wellbeing Trainer and Consultant based in Yorkshire.  I am also a Licensed Instructor for Mental Health First Aid (MHFA) England.  
I offer safeguarding training to the public, private and third sectors, to enable practitioners and managers to keep children, young people and adults at risk safe and protect them from harm.  My understanding of safeguarding enables me to deliver high quality, easy-to-understand bespoke training and awareness-raising sessions on a range of different safeguarding themes to multi-agency audiences.   
I deliver face-to-face training only, as I believe in offering only the highest quality training.  All of my courses are very well evaluated.    Training can be delivered at my bespoke training suite at Nostell Priory or I can come to you, the client, if you prefer.
My company is a DfE approved and accredited supplier of the Senior Mental Health Lead Training course, details can be found here. 
To discuss your training needs, please get in touch using the details below. 
sarah@sarahhenry.co.uk | 07929 053008
At SHS it's been a busy new academic year.  We were really pleased to welcome our Senior Mental Health Lead Training Cohort 5 to Nostell Priory, Wakefield last week. This course is wonderful and we had a really supportive two days of learning with 10 new schools joining our SMHL family.
Here is some more good news! Our SMHL Training Cohort 6 is now open for booking and will begin in March 2024. Furthermore, the Department for Education (DfE) has announced that schools can now apply for a second grant! Please see below!
Senior Mental Health Lead – DfE offers second grants
The DfE has announced that eligible settings can apply for a Senior Mental Health Lead training grant to commence training by 31 March 2024. Relevant schools can also now claim a second grant to train a new person if the Senior Mental Health Lead they previously trained left their setting before embedding a whole school or college approach to mental health and wellbeing. The grant can be used to cover (or contribute to) the cost of attending a quality assured course, and may also be used to hire supply staff while Leads are engaged in learning.   
The DfE offers grants of £1,200 for eligible state-funded schools and colleges in England to train a Senior Mental Health Lead to develop and implement a whole school or college approach to mental health and wellbeing. This training is not compulsory, but it is part of the government's commitment to offer this training to all eligible schools and colleges by 2025. Although independent schools are not eligible for a grant, all assured courses are available to their staff.
Use your grant to access our course! You won't pay a penny!
The £1,200 grant can only be used to access a DfE-assured course and pay for any supply cover.  Our Senior Mental Health Lead course is assured by the DfE: our supplier number is SMHL092.  It is delivered by Sarah Henry and Jayne James.  You can find more details on the DfE's website here: Senior mental health lead training – GOV.UK (www.gov.uk)
For details of all of our courses, head over to our What's On page.
Our next Designated Safeguarding Lead Course will be held on Friday, 2nd February 2024.  Details and booking here. 
We provide a Safeguarding Policy health check and writing service.   Whether you are in need of a policy from scratch or a check of your existing policy to ensure it is up to date, we can help.  Feedback from a recent client: "When I work with you, your safety is paramount. I have even invested in a safeguarding policy specific to my work with you, devised by safeguarding expert @sarahhenry2002. Because it matters! All trainers should have one!" Read more.
SHS joins We Are Wakefield
We are delighted to have recently become members of the business community 'We Are Wakefield' and we were thrilled to collect our plaque that is now at the training suite at Nostell Priory.  For further information about the We Are Wakefield Community, please head to We Are Wakefield Business Collaboration & Networking.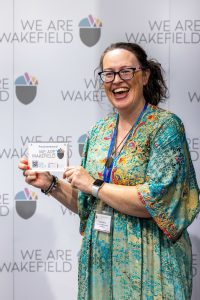 Mind, Body & Spirit: Retreats & Reiki Healing
"One hundred caring and passionate people in the room creating powerful change."   Click here to read about the day.
If you are worried or concerned about a child, please tell someone. You can contact the NSPCC on 0808 800 5000 or your local authority social services department. If there is a danger to life, please phone 999 for the emergency services.
If you are worried about an adult please contact your local authority Social Services department. If there is a danger to life, please phone 999 for the emergency services.
Safeguarding is Everyone's Responsibility