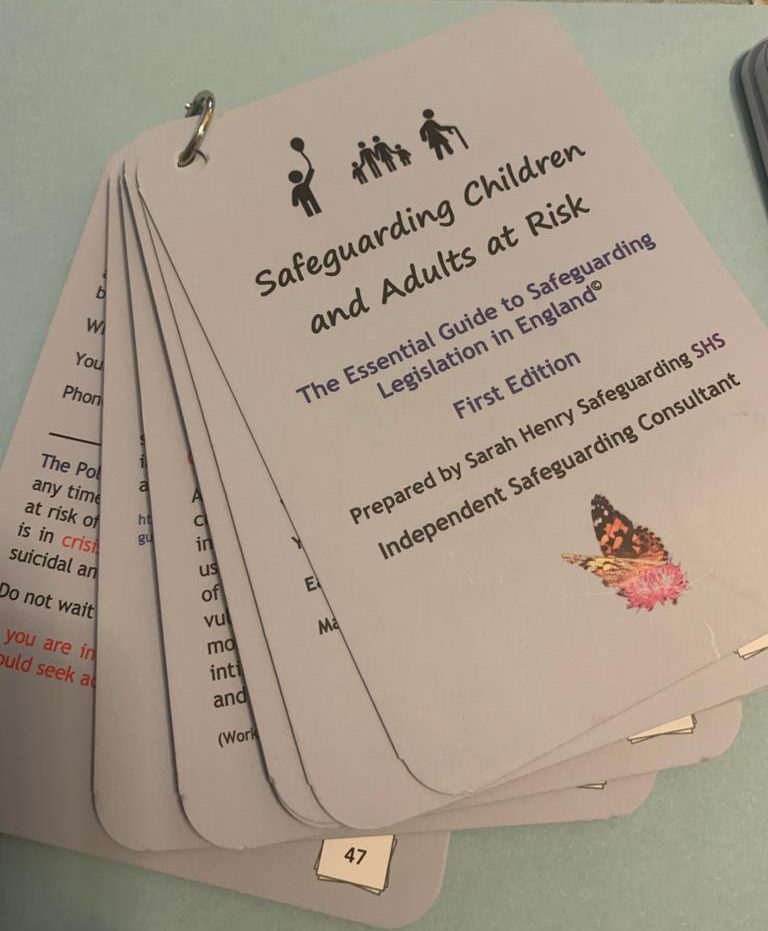 The Essential Guide to Safeguarding Legislation
Prepared by Sarah Henry Safeguarding, Independent Safeguarding Consultant
2nd Edition, May 2022
In its simplest terms, Safeguarding means preventing harm and abuse to children and adults at risk.  Adults and children can be harmed in different ways.  And the effects are devastating, traumatic and often lifelong.
This guide is designed to give you, as a practitioner or volunteer, the knowledge and confidence to know what to do when something is wrong and to know what you must do about it.
Combining HM Government legislation and Sarah's own experience as a Safeguarding Practitioner, this guide is a handy and easy to read aide-memoire for practitioners and volunteers.
£12.00 plus postage
Product Info
This guide will come unassembled so the cards are not damaged in transit. You will receive the cards packaged and the ring holder (shown in the images) will need to be attached by yourself.  This is to ensure the cards remain pristine for you upon arrival.  The cards are approximately small personal diary size. Perfect for your bag or desktop to keep handy for online sessions.
Postage & Shipping
The guide will be shipped to you within 48 hours of purchase.  Postage is currently £1.53 to recipients in the UK.  This guide is intended for practitioners working in the UK.  In the event you are ordering from outside of the UK, postage will be higher and will be invoiced accordingly.
Refunds
Our refund policy is in line with current UK law.  Refunds can be requested within 14 days of receipt of the guide(s).  Please email sarah@sarahhenry.co.uk.